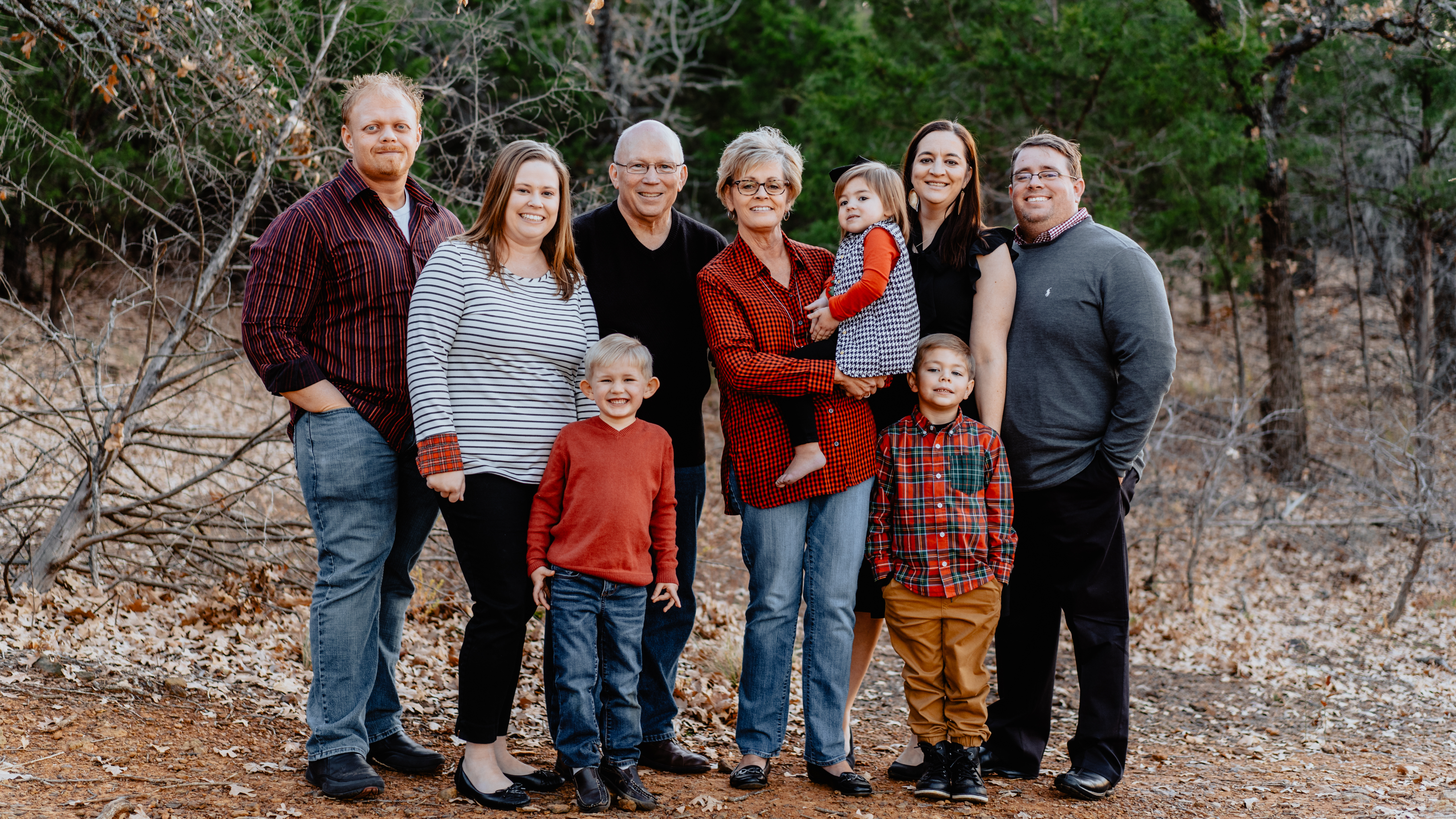 A Family Legacy
Dale and Cindy Cato are building a legacy. For decades, they have served their Lord, supported their church, and invested in the next generation. Today, you can see the evidence of their remarkable consistency and faithfulness in their children, grandchildren, and countless others at our church.
Long before they were married, Dale and Cindy were friends. Their families knew each other well, and they grew up attending the same church in southern Illinois. They were married in 1979. Dale took a job with Bell Helicopter, and the Cato's moved to the Fort Worth location in 1983. Cross City was the first church they visited, and they joined after their second week.
Their son Eric was nine months old when they moved, and Meagan was born two years later. "We were always at the church," Eric recalled. "I remember so many investing in me." Meagan also recalled fond memories of time spent at church. Greg Mangum, Gene Foster, Greg Hill, Bobbie Gregory, and many more were influential, shaping them during their crucial formative years.
The Cato family highly valued the influence of the church community. "I don't understand why people just want to come, sit, and soak," Cindy says. She and Dale ensured their family was consistently active and involved. They never saw their church as a place they merely attended on Sunday mornings, but rather as a core element of their lives. They wanted their kids to see that as well.
As they grew, Eric and Meagan grew more connected with the church. As a student, however, Meagan began to feel some separation from friends and wanted to attend a different church. After considering the options, they made a family decision that they would stay together at Cross City. They had deep roots and valued attending church together. Over time, Meagan was glad that she stayed. Ultimately, the experience solidified Cross City as a place their family could trust with people on whom they could depend.
Years have passed, and Eric and Meagan both have families of their own. Eric and Heather have two kids, Hudson and Harper, and Meagan and Heath have a son, Kase, with their daughter Molly Kate on the way. They have each settled and are raising their children in the heart of the
Metroplex, and all embrace Cross City as their church home. Although there are many reasons to live here, they are compelled to stay because of how they value family and church.
"We rely on the idea of the community of our family," Heather says. "It's not just a 'see you on Sunday' kind of thing." The extended family spends time together, and Dale and Cindy have the opportunity to play an active role in the lives of their grandkids. "Grandad" is already famous for his projects (including a backyard treehouse), and Gram (among many other things) teaches the kids to study the Bible.
"It means they're learning what they need to learn," Meagan says. "It shows the legacy that Eric and I came from, and it shows the foundations that were set. Living out the Bible. Leaving that foundation and legacy." The grandkids know that Gram helps lead their class, and they want to be with Grandad as he serves. They are still very young, but they are seeing what it means to serve the Lord.
Eric, Heather, Meagan, and Heath also serve in various capacities, including preschool and Connection Group leadership. Dale, Eric, and Heath all serve together as deacons. The family seems compelled to serve. It's indicative of their character.
"You model something, then you hope and pray that it will catch," Cindy says. Leading by example has been a family theme. For Dale and Cindy, it was a choice they made early in life that guided how they raised their children. Along with their spouses, the children have chosen a similar path of faithful service and involvement in their local body of believers. "Look at where they are now," Dale commented with a sense of fatherly pride. However, Dale was quick to deflect any credit; he and Cindy worked to honor God in the way they lived and raised their children. "It's just what we did," he said. "We never thought about it any other way."
Today, four generations of the family are at Cross City. Dale's mother, Sue Cato, and Heather's grandmother, Eva Sorrells, are also members. Each intentionally shows the next how to serve the Lord faithfully and experience the real life that He offers. This is the legacy of the Cato family: a lifetime of faithfulness passed on from generation to generation.
Now, they hope to extend the legacy. As the church enters a season of investment in the future through the Generations Project, Dale and Cindy see an opportunity to give back. Cindy recalls, "When we came here, people before us had already done the hard work to have a vibrant and active church... Because someone did that for us, it's our responsibility to pass it along." The focused and steadfast passion will continue, and it will impact the people that follow for decades to come.