The Generations Project Continues
Over and above...
God's blessings have been beyond what we ever imagined! We've been able to completely pay for our Generations project, and through your generous giving, the sale of Campus West, and our last project that was completed under the expected cost, we now have $1.4m in abundance!
In addition to our $1.4m in abundance, God blessed us with a $1m designated gift to update our Euless Campus Worship Center and Chapel. This catalyst gift helps us move forward in ways we didn't expect, giving us a total of $2.4m to move ahead.
A Big Vision
The Generations Project was a significant part of a bigger vision for the Euless Campus. The Generations Project has already impacted a significant portion of the facility, but there is a wider scope of projects yet to be done. Here's an excerpt from our "What's Next" booklet published prior to our decision to move ahead with the Generations Project.
"The best days are ahead of us, and we have much to do. As we walk by FAITH, build the church FAMILY and reach for the FUTURE, key decisions about a master plan for our facilities are necessary. While we likely can't do everything in the master plan at once, our first project would help us take great strides toward more effective growth."
Our first project is now complete. Future projects listed in the book included the Worship Center and Adult Connection. Those, along with improvements to the Chapel, are projects that we plan to focus on next.
What's Next?
We'll use these gifts to continue the Euless Campus transformation. Here's what we'll do:
We'll move forward with updates in the Worship Center and Chapel
In the Worship Center, updates will focus on updating our look and screen technology, as well as some infrastructure. In the Chapel, we're exploring several possibilities for updates that will help this continue to be a great place to worship for years to come.
We'll begin the process of adding Connection Space to the second floor of Building C
Current plans would accommodate 10 or more classrooms utilizing the space currently occupied by the staff offices and portions of the former "Kidopolis" area in the north portion of the building.
Progress Update April 23, 2022:
1) To prepare for the new Connection rooms, offices must be relocated. This involves preparing two floors for office space behind the Worship Center. One of the floors is in the final stages of construction.
2) Work on the Worship Center stage has begun. This involves an updated look with new LED Screens to improve the worship experience for everyone. The construction is estimated to take about 2 weeks to complete. Here are a few photos of the progress.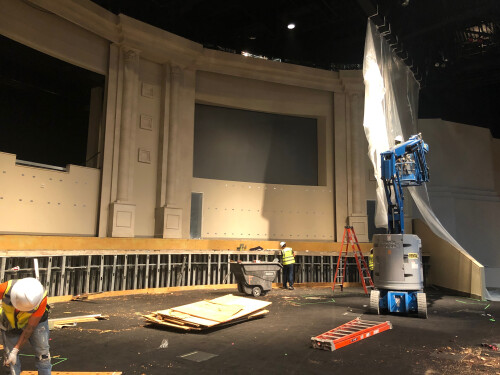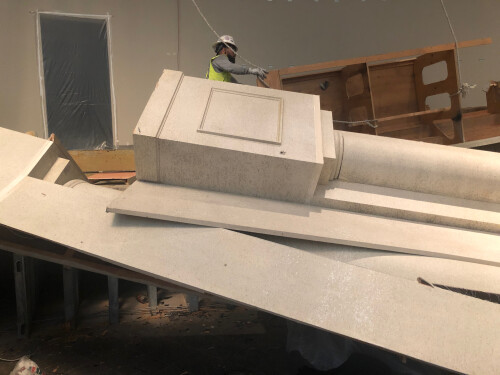 Our Financial Commitments
Many of us committed to giving over the course of three years for this project. We're blessed to have the first portion completed and paid for through your faithful giving. If we continue to give, we'll continue to pursue more of the vision. Future projects may include improvements to our Preschool Ministry area, continued improvements to adult Connection, and more. Your generosity has already made a significant impact—and will continue to do so for generations to come!
Give to the Generations Project

FAQ
What's the plan for
the
North
Campus
?
Cross City Church received a designated gift of $2m to be used for securing a permanent location. Imagine what God might do at our North Campus if it had a permanent home and no more moving everything in and out every Sunday! Land for new construction is the focus, but existing buildings will be considered as well. We'll enter a period of project development and begin a focused approach with our North Campus after property is secured and plans are established. This project is separate from the Generations Project and the Euless Campus.
What's the scope of this Euless Campus project?
While the first phase was largely about families with children, a welcoming Commons Area, and improved accessibility (elevators, clear pathways, etc.), this next phase focuses primarily on preparing for growth in Adult Connection and Worship. Therefore, we will create new adult Connection classrooms on the second floor of our education building (Building C), as well as improve the Worship Center and Chapel.
The Worship Center stage will have a more intimate feel, and more Connection rooms are possible by moving offices from Building C space to the Worship Center building.
And let's not forget that much of this is possible because the first phase of the Generations Project came in on time and under budget (despite increasing supplies costs and pandemic supply problems) and because God blessed us with the sale of Campus West for more than initially anticipated. God has indeed been so good to us, and we want to be faithful with His blessings.
What's our timing for this portion of the Euless Campus project?
We hope to start this initial portion soon and be ongoing throughout the year. Completion would be near the end of 2022.
How much will this portion of the Euless Campus project cost and how is it funded?
The scope of this portion's improvements is estimated to be between $2m-2.4m. It will be funded primarily through existing funds from the Generations Project and the recent $1m gift designated for Worship Center and Chapel improvements.
Does this Euless Campus project require debt?
No. We will pay for this project with existing funds.
What will the $1m designated gift be used for?
The designated gift will be applied to only the Worship Center and Chapel, as specified by the donor. Other funding will be used to complete other parts of the project.
Where will additional Generations Project funds be used?
Keeping with the original vision of the project, funds given to the Generations Project will be used to improve the Euless Campus. Additional gifts to the Generations Project may include continued updates to our worship spaces, Preschool Ministry area, existing adult Connection space, and more. As God provides through our people, we will take next steps.
Why should I complete the remainder of my commitment or begin giving to the Generations Project?
We encourage everyone to prayerfully continue (or begin) giving because we believe in God's Word, we know that God loves a cheerful giver (2 Corinthians 9:6-7), and we want to reach this community and future generations with the gospel of Jesus Christ. We give sacrificially to honor God and obey His Word, but also because it's part of experiencing the real life found in Jesus Christ. As noted above, our ongoing funds will help improve additional crucial ministry areas on the Euless Campus, such as preschool, adult Connection, and more.
Why are new Connection classrooms needed?
We're currently using nearly every adult Connection room. We started the Generations Project to reach more people, but we can't yet launch new groups on campus due to limited space. By adding new groups, we're preparing for God to answer our prayers for growth.
Why move the offices?
Moving the offices creates at least five new classrooms in a prime, easily-accessible location near the Commons. When combined with additional space on the second floor of Building C North (old Kidopolis), we'll meet current needs and prepare for growth.