IF: Gathering 2021 Livestream
Friday, March 05, 2021, 6:00 PM - Saturday, March 06, 2021, 3:00 PM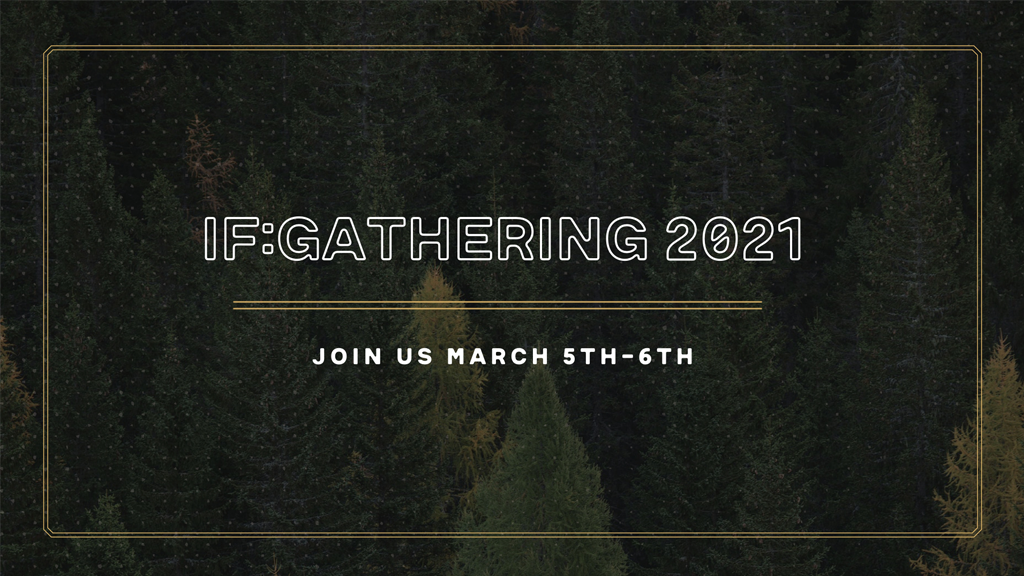 March 5 • 6-9:30 pm • Worship Center • Free
Sessions and worship start at 6:30 pm
Dinner on your own
March 6 • 8 am-3 pm • Worship Center • Free
Sessions and worship start at 8:15 am
Breakfast on your own/lunch break to go off-site.
More detailed schedule coming soon. Everything will be virtual and livestreamed in the Worship Center.
Speakers
Jennie Allen • Jefferson Bethke • Christine Caine • Francis Chan • Lauren Chandler • Eugene Cho • Toni Collier • John Mark Comer • Layla de la Garza • Annie F. Downs • Jada Edwards • Davy Flowers • Isabel Garza • Sadie Robertson Huff • Jamie Ivey • Rebekah Lyons • Vivian Mabini • Latasha Morrison • Christy Nockels • Bianca Olthoff • Jackie Hill Perry • Dr. Anita Phillips • David Platt • Jonathan Pokluda • Jon Reddick • Jo Saxton • Ruth Chou Simons • Joni Eareckson Tada • Lysa Terkeurst • Dr. Curt Thompson • Mike Todd • Chidima Ubah • Ann Voskamp • Katherine Wolf
His Kingdom is coming. We want His will to be done on this earth as it is in heaven and our heart and prayer is that "on earth, as it is in heaven" starts with us. And we would stop wondering if it is possible to change the world. It's possible.
This year, at IF:Gathering 2021, we are going to talk about how we do that. The theme of those two days is going to be "Even If." Even if the worst happens, we won't lose hope. Invite your friends, sisters, neighbors--anyone who you want to come and join you for a time of worship, teaching, challenging and refreshing!

Click here to register
The Basic Pass is chosen for you; upgrades available for an additional charge.

We will observe our same COVID-19 policies as on Sunday mornings (for more info on these, click here.